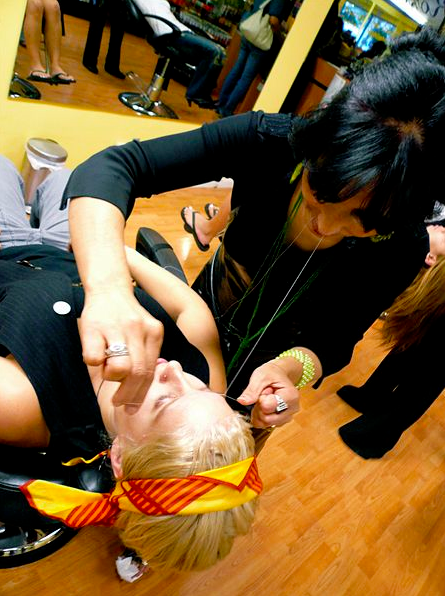 Threading is an ancient method of hair removal originating in the Eastern world. In more recent times it has gained popularity in Western countries. Practitioners use a thin, twisted cotton thread which is rolled over usually untidy hairlines, moustaches and other areas of unwanted hair, plucking the hair at the follicle level. Unlike tweezing, where single hairs are pulled out one at a time, threading can remove an entire row of hair, resulting in a straighter line. Because a large area of hair is removed at once, it could be painful, though a Guardian columnist has declared that when done professionally "with a cat's cradle of fine thread" it can be quick and painless.
Eyebrow Threading Edmonton
Eyebrow threading defines and creates straight lines while hair is extracted at the follicle level. Our practitioners follow the contours of your unique brow bone in an effort to create the most flattering eyebrow shape customized for you. They follow your natural bone structure while creating your personalized eyebrow shape.
Our practitioners are always patient and take time to listen, assess and explain what threading can do for you based on your unique facial structure. Eyebrow hair often returns thinner and at a much slower rate. Eyebrow threading instantly makes eyes appear larger and lifted. Maintained eyebrows project a sharper, well-groomed, and polished overall image instantly! Set yourself apart from others and schedule an appointment today.
Frequently Asked Questions
Are you unfamiliar with eyebrow threading? Below please find a list of FAQ's which will help familiarize yourself with the ancient form of hair removal known as eyebrow threading.
Question - What is eyebrow threading?
Answer - Threading is an ancient and eco-friendly form of hair removal practiced for centuries in the Middle East. A twisted cotton thread is rolled over the desired hairline, such as the eyebrow, extracting the hair at the follicle. Unlike tweezing, threading can remove an entire row of hair at once. Since the hair is removed at the follicle level regrowth is much slower and thinner.
Question - Does eyebrow theading hurt?
Answer - Eyebrow threading is less painful than waxing. The sensation is equivalent to that of tweezing several hairs at once. Unlike waxing, which actually removes a thin layer of skin during the process, threading only removes unwanted hair sparing delicate skin.
Question - What areas can be threaded?
Answer - Most areas on the body can be threaded. Aside from eyebrow threading, Choice Salon can also remove unwanted hair from a wide variety of areas such as neck, hands and feet.
Question - What is the down-time after threading?
Answer - There is little to no down-time after a threading procedure. If minor skin irritation does occur it usually dissipates within an hour.
Question - What are the benefits of eyebrow threading?
Answer - Precision is a major benefit of eyebrow threading. Our threading practitioners remove small segments of hair, even one hair at a time if desired, during the threading process. Eyebrow threading gives the practitioner more control and the ability to create a shape unique to each persons' facial structure. Eyebrow threading is great for people with sensitive skin or those using acne medication such as Retin A. Threading only removes hair and doesn't cause trauma to delicate facial tissue. Most threading services usually take less than 15 minutes to perform.
Book an appointment or a FREE consultation today to try threading Edmonton!
780.433.3123